| | |
| --- | --- |
| | Jamming near the Torpedo Town Free Festival, August(?) 1986. We couldn't find the festival on the first night as we were getting shunted all over the place by the police. For some reason, everyone makes a beeline for my keyboards as if I hadn't any use for them myself. I Can't remember who that is playing on my keyboards in the background, he just walked up while I was playing the guitar and pressed a few keys at random. |
| | Here's a look at my keyboard and computer setup in 1986. Note the Sinclair Spectrum! That was my sequencer back then and it worked a treat handling both MIDI and CV & gate signals. The keyboards are: Sequential Circuits Pro-One monosynth, Sequential Circuits SixTrack polysynth and a Roland VK-09 Organ. |




Here's a look at our home studio setup taken in October 1987. No room for a drumkit or rehearsals here. We did these photos in black and white for an info sheet we were putting together at the time and needed some photos that would come out OK in a photocopier. As it turned out, the neighbours were a particularly nasty bunch who ganged up on me and forced me out of my home on the pretext that having and playing my own instruments in my own home constituted an 'illegal business'.
Julia looking good and singing well before our neighbours declared war against me and my music, driving me out of my home and splitting us up in the process.
| | | |
| --- | --- | --- |
| | | A few more photos of Julia singing. We were still writing and recording new material at this time even though we had sadly parted company with John and Nina. |
| | |
| --- | --- |
| | A picture of myself posing with my guitar giving it a bit of welly! |
| | |
| --- | --- |
| | John and I got a gig jamming at the Limelight Club, London on 16th May 1988. I had been busking in Camden the previous day and was asked to do a set at a West End club. A miserly, unfriendly place with horribly overpriced drinks and no audience (that's the problem with Monday night gigs). John and I ended up sitting on the pavement afterwards without a lift home for ourselves and our instruments. In spite of it all, it was a good jam, especially after not having played together for over 2 years, even if it was a crap venue. |
| | |
| --- | --- |
| | Julia and myself doing a set of our material using a sequenced backing track at The Alexandra, Clapham Common on 25th August 1988. |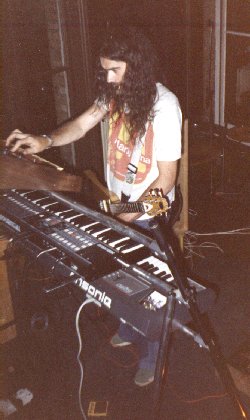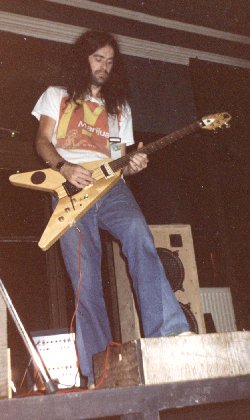 Here I am doing one of my first solo performances using sequenced synths & drum machine as a backing track at The Alexandra, Clapham Common on 15th & 29th August 1988. In spite of being criticised for doing 'inaccessible' music, these performances proved that writing and performing my unique variety of synth-rock was certainly feasible.